2022 has just begun and you can start your life from scratch and with healthy routines. Especially for you Elena Shvedkina, endocrinologist-nutritionist, has selected essentials of nutrition. Having read this may make you feel your diet is damaging, but it can make your way to new eating habits all the more interesting!
You can hardly find a more difficult to find a more discussed and controversial topic than nutrition, diets, healthy and harmful products. There are many myths and misconceptions about healthy eating. What should the diet be? How many times a day should you eat? And what can be considered a right snack?
Must-haves
Well, regardless of age, weight, gender and nationality, our daily diet should include necessary products to provide the body with enough energy and help it produce new cells. Namely:
vegetable and animal protein
animal and vegetable fat
complex carbohydrates
fresh vegetables and fruit
Also, remember about a sufficient amount of liquids, for water is the basis of healthy metabolism, and lack of it slows down metabolism naturally.
The essential ingredients checklist:
Vegetable and animal protein
Fats
Nuts and seeds
Non-starchy vegetables, greens
Cereals
Starchy vegetables
Fruit and berries
Sprouts
Seaweed
Water
Herbal tea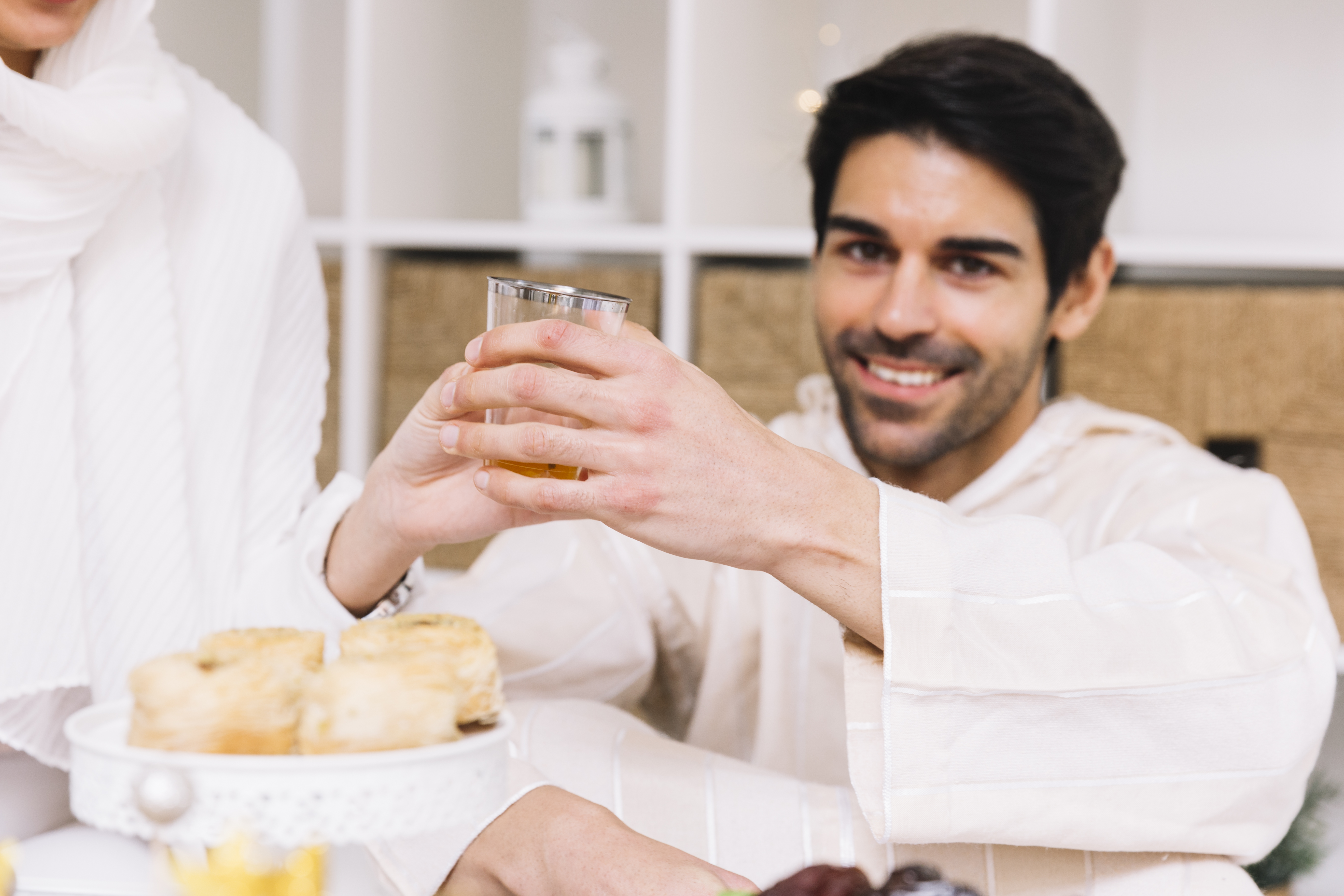 Number of meals a day
If you do not have carbohydrate metabolism disorders (diabetes mellitus, impaired glucose tolerance, the so-called pre-diabetes), insulin resistance and excessive weight, then you can afford any type of nutrition:
2-3 meals a day without snacks
5-6 meals a day (3 main meals and 2-3 snacks)
half-way types
It is important to remember that the diet in both cases should be balanced in terms of key nutrients (proteins, fats, carbohydrates) and its energy capacity should be compatible with your lifestyle and activity.
If you have metabolic problems: your BMI is over 27, you have been diagnosed with prediabetes, type 2 diabetes, insulin resistance or PCOS (polycystic ovary syndrome), or if you want to lose weight, then you should go for 2-3 meals a day without snacks between main meals.
5-6 meals a day are necessary if you are experiencing chronic inflammatory diseases exacerbation of the digestive system, such as chronic gastritis, chronic duodenitis, GERD, chronic pancreatitis or chronic cholecystitis. In this case the diet should be adjusted by your attending physician.
Either way, eating should be a result of hunger. Do not eat with friends or out of boredom. Pharmacists do not get bored at work, and this is helpful in terms of reducing snacking.
Meal schedule
The first meal of the day - breakfast - is very important for our well-being throughout the day. So the main breakfast rule is eating within 40-60 minutes after waking up. Thus, we prevent blood glucose levels decrease and help the body produce necessary new cells for the whole day. The intervals between main meals should be at least 5 hours and the last meal (dinner) should be 4 hours before going to bed.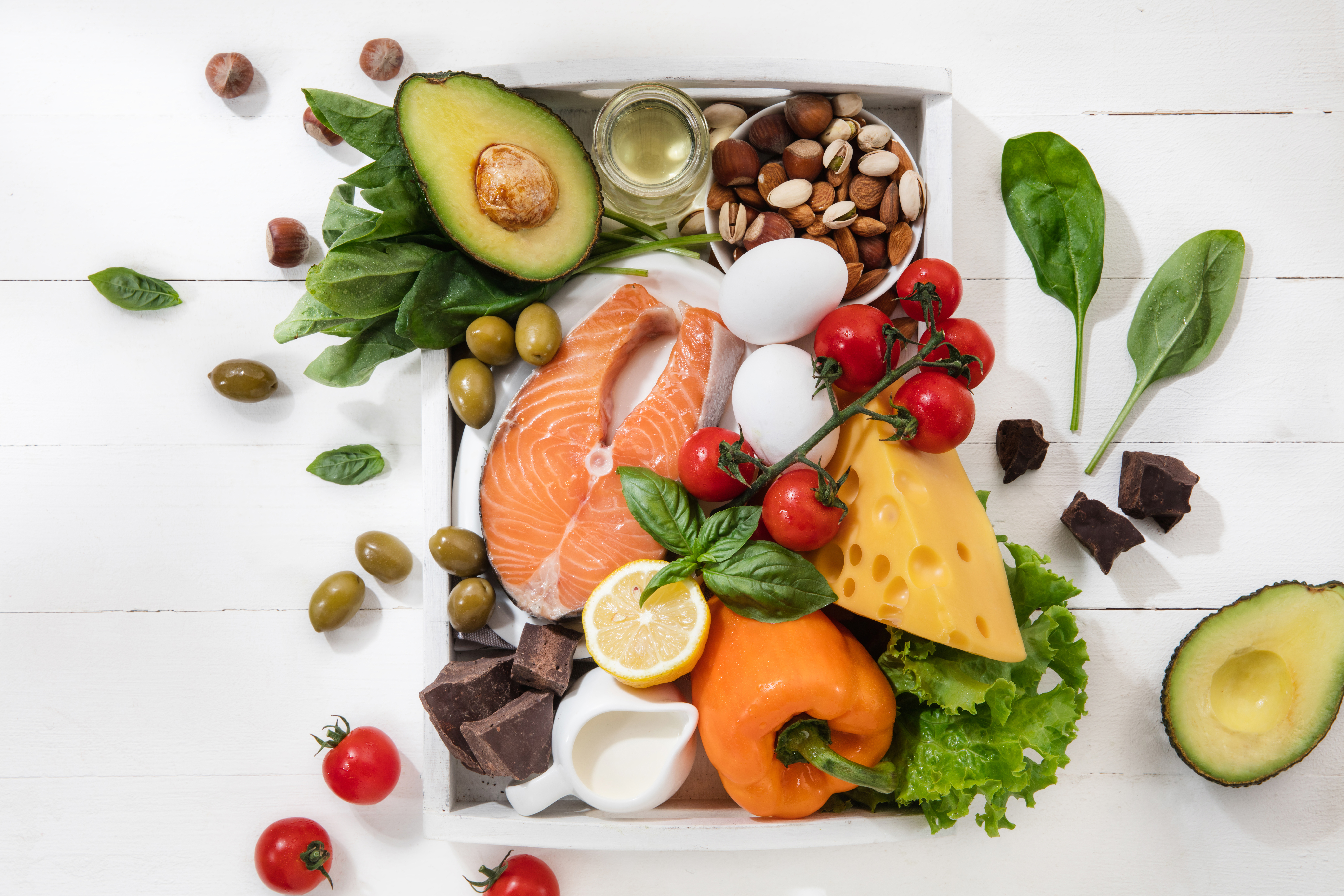 Example meal schedule:
2-3 main meals, snacks on demand
3-4 hours intervals between meals
Breakfast between 7 – 8 am and dinner between 6-7 pm.
Meal plan:
The basic rule of a healthy diet is a sufficient amount of protein (at least 1 g / kg of ideal weight), a sufficient amount of quality fats, a serving of vegetables and greens, and a small amount of complex carbohydrates for breakfast and lunch. The last meal should be as light as possible and ideally consist of cooked or fresh vegetables with vegetable oil.
Diet Matrix
Idea

Implementation

Ingredients

Breakfast

Saturated fat

Protein

Fresh vegetables

Complex carbohydrates

Fruit/berries (optional)

Eggs (steamed omelette, shakshuka, scrambled eggs, fried eggs) + hard cheese + fish + avocado + vegetables, greens + butter + gluten-free crisp bread

Coconut cream pudding with chia/flax seeds and wild berries

Full fat cottage cheese (9%) + full fat sour cream / cream

A serving of wild berries or a small serving of fruit (oranges, grapefruits, pomelos, hard apples, hard pears)

chicken/quail eggs,

oily fish (chum salmon, trout, salmon, mackerel, herring, tuna, sardine, halibut)

parmesan/grana padano cheese

butter, olive oil, coconut milk or cream

lettuce, arugula, parsley, dill, iceberg lettuce, Napa cabbage, celery, cabbage, tomatoes, cucumbers, bell peppers, avocado

whole grain bread, rice, buckwheat, amaranth or corn crisp bread

cottage cheese 9%, sour cream/cream 30%

flax or chia seeds, sunflower seeds, pumpkin seeds, nuts

fresh or frozen berries: raspberries, blueberries, cranberries, lingonberries, gooseberries, sea buckthorn, currants

fruit: apples (granny smith, gala, brebun, simirenko), grapefruit, orange, pomelo

Lunch

Animal + vegetable protein

Complex carbohydrates

Vegetables

A fistful of grains + non-starchy vegetables, greens + protein + fat (olive oil, avocado oil for salad dressing).

Chilled boiled or baked potatoes or wheat pasta (cooked al dente) is allowed once or twice a month as a side dish

Any kind of fish (white, red), poultry (turkey, chicken), red meat, offal (liver, kidneys), game

Legumes: beans, chickpeas, peas, lentils

Cereals: buckwheat, rice, quinoa, millet

Vegetables and greens: lettuce, arugula, parsley, dill, iceberg lettuce, Napa cabbage, celery, cabbage, tomatoes, cucumbers, bell peppers, avocados, carrots and raw beets

Seeds to add to salad: sesame seeds, sunflower seeds, pumpkin seeds, chia seeds, flax seeds

Dinner

Fresh or cooked vegetables

Fat

Warm salads + oil (olive) or cream soup or Vegetable broth, stewed vegetables

Optional: serving of light protein

Vegetables and greens: lettuce, arugula, parsley, dill, iceberg lettuce, Napa cabbage, celery, cabbage, tomatoes, cucumbers, bell peppers, avocado

Complete protein: seafood (shrimp, squid, scallop), eggs, lean fish (cod, pollock, haddock, hake, halibut, flounder)

Snacks (optional)

Vegetables

Fat

Green smoothies or vegetable juice

Hummus + vegetables

A slice of hard cheese

Nuts

Dark chocolate (70% or more cocoa)

Half an avocado with salt and pepper

A spoonful of nut (not peanut) butter or urbech

Coconut milk, any leafy greens and vegetables

Avocado

Any vegetables (other than root vegetables)

Hard cheese (Parmesan / Grana Padano)

Nuts (brazil nuts, walnut, macadamia, pine nuts)

Dark chocolate

Nut paste or Urbech (sugar-free)
Having balanced meals in the workplace can be tricky. How to manage? Cheese, vegetable, and nut snacks, which can be prepared at home easily. And how wonderfully celery smells and how juicy it crunches! Today there are sugar-free chocolate bars on the market, why not try this kind of traditional snack! Changing your diet is not easy, so I recommend starting with taking up good habits, not restrictions.
Trendy asceticism
You can introduce 1-2 fasting days a week or one fasting week a month. This will help maintain weight and create a small calorie deficit. Moreover, it has already been proven that reducing calories by 20-25% for a long time promotes youth, health and sound mind.
You can try intermittent fasting once a week according to the 8:16 scheme (16 hours without food, but you can drink water, tea, black coffee) or 10:14. This dietary technique, when you eat for 8-10 hours and refrain from eating for 14-16 hours, allows you to naturally reduce the calorie content of the diet and adjust meals to natural daily rhythms.
Regardless of what type of food you choose for yourself, 2-3 meals a day or frequent fractional nutrition, remember that food is not only a source of energy, but also a tradition, a way of social interaction and a source of new experiences. What snacks do you usually have at work? Describe your favorite snack. :)