Fundamentals of Lifestyle Medicine
The course is suitable for the following specialties
Community pharmacist
Cardiologist
Endocrinologist
Family doctor
Nurse
Certified faculty from the UK
Evidence-based recommendations
Practical tips for lifestyle changes
Videos, tests and practice tasks
CPD certificate upon completion
Course partners
UK-based team of practicing doctors certified by the International Board of Lifestyle Medicine (IBLM). Experts on personalized health coaching.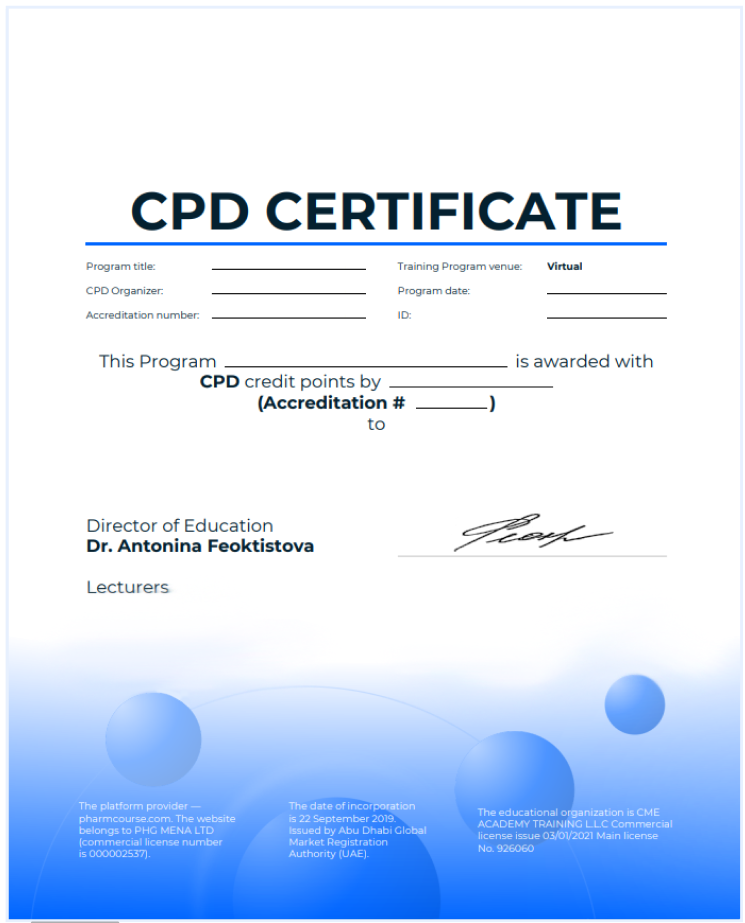 CPD certificate
Upon completion you'll get a Continuing Professional Development (CPD) certificate. This document is recognised by most health regulation authorities in the MENA region and can be used to renew your license.
Accreditation
CPD Standards Office
What you'll learn
Recognise signs of unhealthy lifestyle
Empower people to change their habits
Help build healthy habits that stick
Work with goal setting and motivation
Apply all this to your personal health
Your program
1

Introduction

2

Sleep

3

Activity

4

Nutrition

5

Stress

6

Risky Substances

7

Social Life
Fundamentals of Lifestyle Medicine
Certified faculty from the UK
Evidence-based recommendations
Practical tips for lifestyle changes
Videos, tests and practice tasks
CPD certificate upon completion
Get up to 90% off with PhC bonuses
FAQ
I noticed you have CPD and CME courses. What is the difference?
How can I receive my CPD certificate?
How can I download my CPD certificate for Courses
What if I experience a technical difficulty?
How do I access my course?