General Principles of Antimicrobial Therapy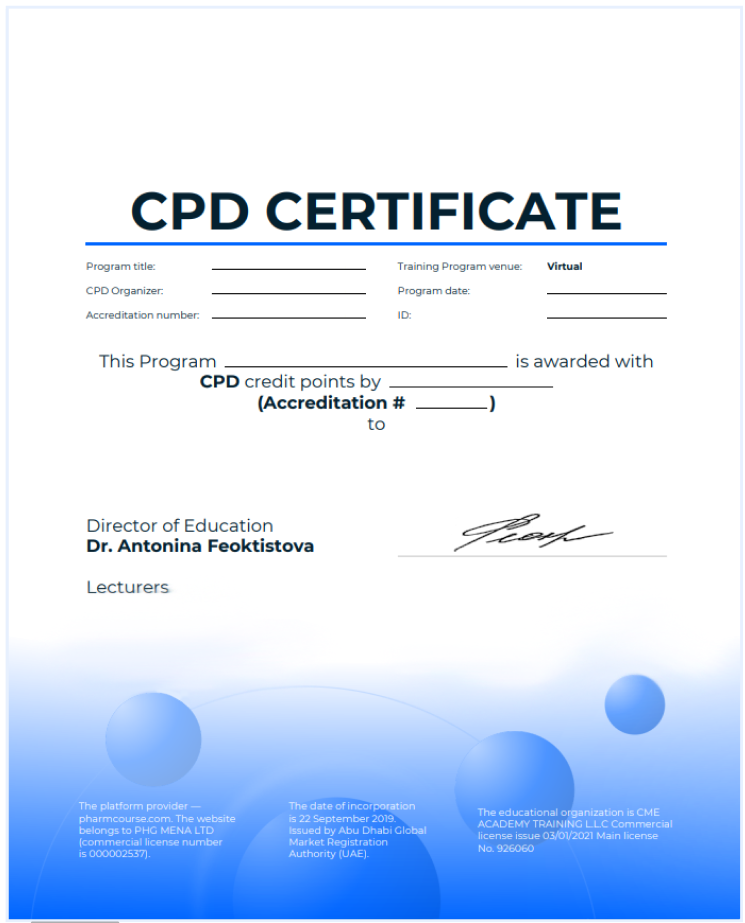 CPD certificate
Upon completion you'll get a Continuing Professional Development (CPD) certificate. This document is recognised by most health regulation authorities in the MENA region and can be used to renew your license.
Accreditation
CPD Standards Office
What you'll learn
As a result of this educational activity, after the end of the course the participants should be able to:
Describe the classes of antibiotics and prediction of bacteria according to site of infection.
Identify the differences between each antibiotic type and generation and what types of bacteria they cover.
Identify the correct mechanism for different antibiotics.
Give examples of therapy and identify the best management
Your program
1

Introduction of Antibiotics and Basics of Microbiology

2

Pharmacodynamics and Pharmacokinetics of antibiotics

3

Mechanisms of action of antibiotics and antibiotics classifications

4

Antibiotics classifications part 2
General Principles of Antimicrobial Therapy
FAQ
How do I access my course?
I noticed you have CPD and CME courses. What is the difference?
How can I receive my CPD certificate?
How can I download my CPD certificate for Courses
What if I experience a technical difficulty?